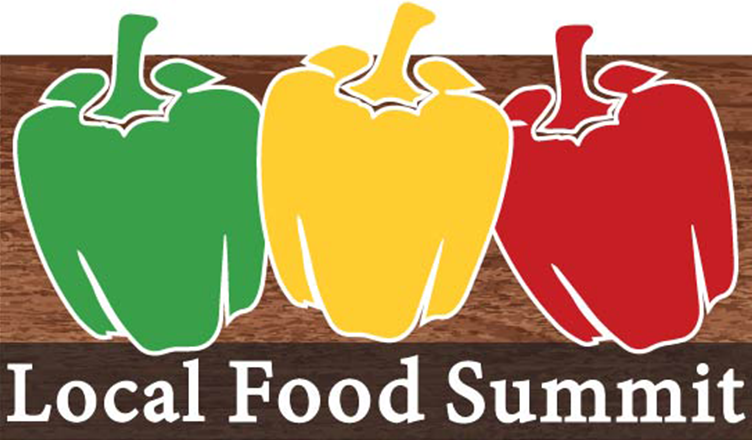 2018 Local Food Summit
Creating Food Solutions for our Community
Join us for this special event to connect the local food community in Muncie and East Central Indiana! This year's summit will explore current trends in our local and regional food system, cutting-edge innovations from food and farming entrepreneurs, food stories from here and afar, and the chance to help shape our local food landscape through policy, planning, and action.
Details:
When: Wednesday, October 24th | 9:30-6:00pm
Where: Ball State University Alumni Center (map)
The summit includes a catered lunch featuring local food and farmers, inspiring speakers, networking opportunities, and direct avenues for engagement in building the local food system. Attendees are also encouraged to bring their own business cards and other printed information to share at the information table.
Who Should Attend:
Anyone with an interest in local food! Especially:
Farm-to-table
Community gardens
Farmers
Policy development
Nutrition
Entrepreneurship
Food access
Food hubs
Food preparation
Economic development
Registration:
The registration fee is just $30 for attendance and a catered lunch featuring local food.  There are a limited number of scholarships available. If you intend to apply for a scholarship, please wait for approval of your application before registering.
[otw_shortcode_button href="https://commerce.cashnet.com/BALL_EMS066″ size="medium" icon_position="left" shape="square" color_class="otw-green" target="_blank"]    Register    [/otw_shortcode_button]  [otw_shortcode_button href="https://bsu.qualtrics.com/jfe/form/SV_8pERj09keka0GCV" size="medium" icon_position="left" shape="square" color_class="otw-green"]Scholarships[/otw_shortcode_button]
Agenda:
9:30 – 10:00 am:         Registration
10:00 – 10:15 am:      Welcome from Mayor Tyler
10:15 – 11:15 am:      Keynote: John Mischler – Director of AgroEcology at Merry Lea Sustainable Farm of Goshen College
The Merry Lea Sustainable Farm is an educational farm demonstrating sustainable agriculture practices for students and the visiting public, nestled within the northeast corner of Indiana. John Mischler will discuss the role of higher education, sustainable agriculture, and experiential learning in strengthening our local food system.
11:15 – 11:30 am:      Break
11:30 – 12:30 pm:      State of the Plate from Muncie Food Hub Partnership and Purdue Extension of Delaware County
12:30 – 1:45 pm:        Catered lunch featuring local ingredients
1:45- 3:15 pm:             Break-Out Sessions
This is your chance to make an impact!  Participants will be able to pick one interactive community planning session to brainstorm innovative solutions to local food issues. The topics listed below.
Food Insecurity – Did you know that one in five Delaware County residents, and one in four children, struggle with food insecurity? As a community, how can we make sure that everyone has access to the food they need to be healthy? Led by Second Harvest, this session will explore ideas and solutions toward a food-secure Delaware County.
Moving Action Forward: A Local Food Council – A Local Food Council can help shape government policy and programs that affect our local food system. Want a seat at the table? Join Bryan Preston, GIS Technician, of the Delaware County GIS Department to discuss the role of a Local Food Council in our region.
Food Hub Feedback – Share your thoughts! If you interacted with the Food Hub Mobile Market this season, let us know how it went. We'd love to know what worked well, what could be improved, and any ideas for the future. Growers, consumers, students, and citizens – we want your feedback!
Urban Garden Coalition – Looking for garden ideas to try next season? Get some thoughts from local experts. This session will explore innovative garden techniques, including garden design, sustainable practices, ways to integrate edible plants into ornamental landscapes, and examples of design ideas from other communities.
3:15 – 3:30:                Break
3:30 – 5:00                 Farmer Panel moderated by Mark Carter
Learn about a day in the life of a farmer. This panel discussion will provide a glimpse into the work of several different ECI growers, including producers of livestock, grain, honey, dairy, and fruits and vegetables. Get a sense of what it's like to run a farm, from soil to sales. Local FFA chapters are encouraged to attend.
5:00 – 5:15                 Closing Remarks
5:15 – 6:00                 Networking Reception
Join us for a post conference networking reception with beverages from local breweries. While sipping a brew, connect with other food-minded people. Information about local food projects from non-profit organizations, business, and BSU students will be available for display.
Event Organizers
Muncie Food Hub Partnership. Funded through a Ball State Academic Excellence Grant, the Muncie Food Hub Partnership draws together stakeholders from Ball State, local and regional farmers, government, industry, and non-profit organizations to pursue a regional food policy that synchronizes food and health-related strategies for East Central Indiana.
Purdue Extension – Delaware County. Purdue Extension provides a link between Purdue research and Indiana citizens, providing practical solutions to local issues in four program areas: agriculture and natural resources, health and human sciences, economic and community development, and 4-H youth development.
Ball State Office of Community Engagement. As Ball State's front door for community partnerships, OCE connects the university with community priorities and initiatives, resulting in more engaged faculty and students; greater prosperity for local residents, businesses, and organizations; and improved quality of life for all.
Inquiries
Please contact Elaine Vidal via email or (765) 285-5789.