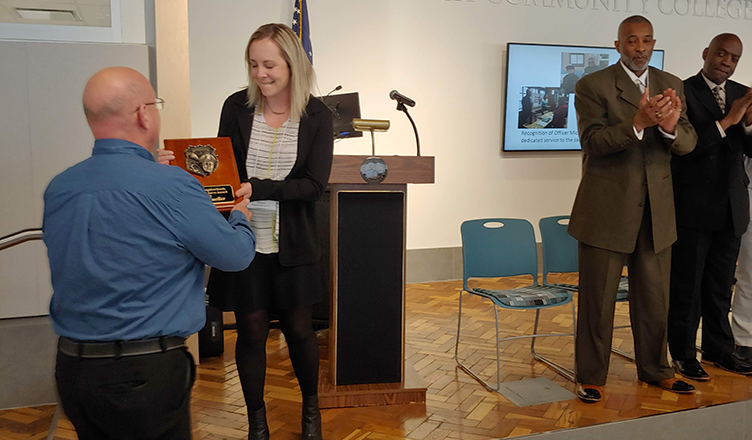 Each year at the conference, outstanding neighborhoods are recognized for their leadership, projects, and beautification efforts! Check out our past winners to learn more about the amazing work being done by neighborhoods across Muncie.
Neighborhood Awards:
2018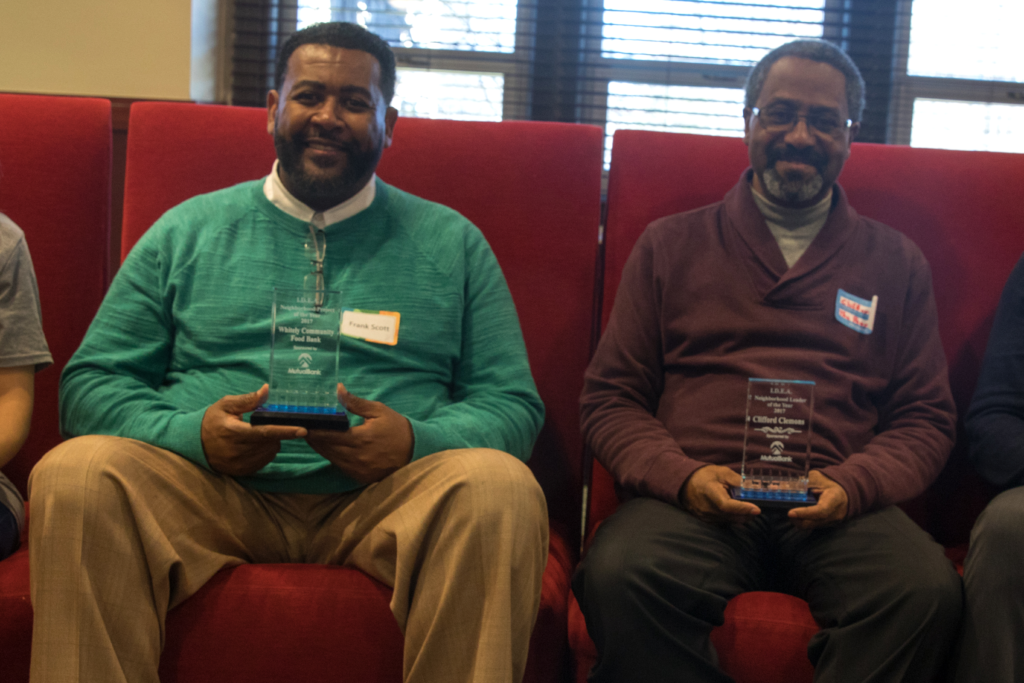 Whitely Community Food Pantry
2017 Neighborhood Project of the Year
According to Feeding America, food insecurity exists when people lack sustainable physical or economic access to enough safe, nutritious, and socially acceptable food for a healthy and productive life. This neighborhood association felt a strong need to actively address the issue of food insecurity through the mobilization of resources to create a Hunger Free Zone. In 2017, over 200 individuals were provided healthy, nutritional food through the establishment of a food pantry. The result of partnership building and active fundraising efforts, the Whitely Community Food Pantry has added value to the lives of Whitely's most vulnerable residents.
Clifford Clemons, Blaine-Southeast Neighborhood Association President
2017 Neighborhood Leader of the Year
He experienced set-back early on in the development of the neighborhood association due to low attendance and lack of interest, and yet he persisted. Over the last few years he built a strong, dedicated association committed to improving the neighborhood's quality of life. In 2017 these efforts translated to the successful installation of a walking track at the park that the neighborhood owns and maintains, as well as several community building events including neighborhood cleanups, holiday parties, and an annual back-to-school event in which neighborhood children receive free school supplies. This Neighborhood Leader's super power is bringing people together, a testament to their neighborhood's tagline, "It's the Unity of the Community that gets the work done."
2019
Minnetrista Neighborhood Association Urban Garden Project
2018 Neighborhood Project of the Year
According to pioneer of the organic farming and urban agriculture movements Michael Ableman, "There is a quiet revolution stirring in our food system. It is not happening so much on the distant farms that still provide us with the majority of our food; it is happening in cities, neighborhoods, and towns. It has evolved out of the basic need that every person has to know their food, and to have some sense of control over its safety and security." 
In the summer of 2018, over 1000 pounds of produce was grown and distributed to surrounding neighbors and businesses as well as to The Soup Kitchen of Muncie, Bridges Community Services and local churches and twelve-step programs. The community garden also boosted morale within the neighborhood and gave participants a sense of accomplishment.
Lezlie McCrory, South Central Neighborhood President
2018 Neighborhood Leader of the Year
She worked tirelessly over the last several years to build community and engage residents in neighborhood projects. In 2018 these efforts translated to the successful installation of several blocks of trees, flowers, and other greenery along the South Walnut St. corridor. This beautification effort truly was a massive undertaking involving partnerships with key stakeholders including the City of Muncie, utility companies, local businesses, and residents. When you drive down South Walnut today you see a vast improvement from a barren sea of grey to a cared for streetscape full of color and life.  This Neighborhood Leader's super power is persistence, truly working year after year to make South Central a place where neighbors want to live, dream and grow. When asked how they would describe this neighborhood leader, neighborhood association members and peers said, that they lead with enthusiasm, encouragement, and tenacity. And for those Parks & Rec fans, I also heard: "Leslie Knope wishes she was Lezlie McCrory!"
2020
Riverside-Normal City's $2 Tour of the Village
2019 Neighborhood Project of the Year award
Starting a new neighborhood initiative or event is daunting. There is no precedent to draw from and you feel like you're just treading water as you pull together partners, plan logistics, and figure out fundraising. Throughout the process though, partnerships become key to overall success and drawing in the support and active involvement of neighborhood businesses is a true asset to any neighborhood initiative. In the spring of 2019, a dedicated group of resident leaders and local business owners began meeting regularly to plan an event that was meant to highlight the neighborhood, its unique characteristics and assets, and its commercial corridor. Six months later, University Avenue was closed to motorists for one beautiful, summer afternoon as hundreds of people descended on the Village to experience the food and culture of this historic neighborhood hub. The success of this event is not just the exposure it brought to the neighborhood, but in the newly formed Village Alliance that is actively working to improve quality of life and advocate for the area.
Stan Geidel, Country Village-Creekwood Neighborhood Association Secretary
2019 Neighborhood Leader of the Year.
His leadership can be seen in the way they use their personal expertise to better the community. Over the last two years, their neighborhood began the process of revitalizing its community space, including plans to replace an aging playground, expand a small parking area and add a recreational trail. While the current board was able to envision these plans, finding ways to fund and initiate the project was daunting. This is where this resident leader stepped up to lead the project by utilizing their grant writing expertise and to prepare a timeline and funding plan. He also revived the neighborhood Easter Egg hunt, handed out hundreds of popsicles during the neighborhood Halloween festivities, and gave their time and used their personnel equipment to clean up the neighborhood basketball court and assist in the construction of a gaga pit for the children of the neighborhood.
According to neighbors, "Whether he is seeing an immediate need that he uniquely has the skill to address, or giving of his time on projects that don't even directly affect him, Stan has jumped in with two feet to the betterment of his community."
2021
South Central's Embracing Chaos and Finding the Fun
2020 Neighborhood Project of the Year award
This year's Neighborhood Project of the Year Award was presented to the South Central Neighborhood, celebrating their efforts to remain physically distanced and socially connected. Residents treated neighbors to pizza parades, spread joy via possum yard signs, dropped Easter Eggs in kids' front yards, held meetings outdoors, and provided funding for porch improvements to encourage folks to sit outside and engage with one another.
Aaron Neff, Anthony Northside Neighborhood Association Secretary
2020 Neighborhood Leader of the Year.
Aaron Neff was voted Neighborhood Leader of the Year for his ongoing efforts to save the neighborhood's historic entrance gates on Wheeling and for his advocacy and passion to preserve and enhance the Anthony-Northside Neighborhood.
2022
Halteman Park Project
2021 Neighborhood Project of the Year
The private Halteman Swim Club ceased to exist in 2017 and the property was donated to the City. Unfortunately, the site had over $15,000 in back taxes due resulting in the property selling at tax sale and becoming blighted. The Halteman Village Neighborhood Association, after extensive grassroots action: attending city meetings, petitions, etc. –  worked with the City of Muncie to retain ownership and after much advocacy work, space planning, crowdfunding, and grant writing by HVNA, among others, the site became a public city park during the Fall of 2019 and held a ribbon-cutting for its new splash pad this past summer. This space now acts as a platform for community engagement – a centerpiece and a connector. Halteman Park will help build a stable community all the while providing health benefits to all generations of residents.
Ms. Pat Akins, Industry Neighborhood Treasurer
2021 Neighborhood Leader of the Year Award.
Ms. Pat has been committed to her Neighborhood Association for many years. She has served in multiple capacities, including as Events Coordinator, Secretary, and as Treasurer. She is described by her friends and neighbors as faithful and consistent in her pursuit of the betterment of their neighborhood.
She is a driving force for their neighborhood association and always keeps everyone on track. She is open to collaborations, partnerships, and new ideas. And for the commitment and care that she has consistently shown over the years, we believe Ms. Pat Akins is well-deserving of recognition as a faithful leader in the Industry neighborhood.
Most trash collected:
SPRING 2018 WINNER
Riverside-Normal City Neighborhood Association
Spring 2017 Cleanup: 25,220 pounds of trash collected!

FALL 2018 WINNER
Old West End Neighborhood Association
Fall 2017 Cleanup: 21,840 pounds of trash collected!
SPRING 2019 WINNER
Old West End Neighborhood Association
Spring 2018 Cleanup: 18,120 pounds of trash collected!


FALL 2019 WINNER
South Central Neighborhood Association
Fall 2018 Cleanup: 12,060 pounds of trash collected!
SPRING 2020 WINNER
South Central Neighborhood Association
Spring 2019 Cleanup: 26,780 pounds of trash collected!


FALL 2020 WINNER
Old West End Neighborhood Association
Fall 2018 Cleanup: 20,040 pounds of trash collected!
FALL 2021 WINNER
Industry Neighborhood Association
18,420 pounds of trash collected!


SPRING 2021 WINNER
Whitely Neighborhood Association
18,240 pounds of trash collected!
SPRING 2022 WINNER
Industry Neighborhood Association
Spring 2021 Cleanup: 13,920 pounds of trash collected!


FALL 2022 WINNER
Old West End Neighborhood Association
Fall 2021 Cleanup: 21,700 pounds of trash collected!