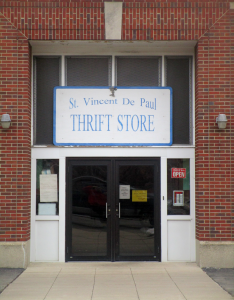 The St. Vincent de Paul Society of Muncie has published a comprehensive guide to human services available in Muncie and Delaware County. The guide, more than 100 pages long and meant to supplement the 211 Rainbow book, lists resources for basic needs – such as utilities, food, and shelter – as well as children's services, disability services, senior services, and more.
The St. Vincent de Paul Society is a worldwide Catholic community organization founded in Paris in 1833. Locally, the tri-parish group serves the needy of Delaware County to fulfill two great commandments – Love of God and Love of Neighbor. The society operates a thrift store (920 E. Charles Street) that helps approximately 550 persons per year with free clothing and miscellaneous household items. Proceeds from the store go to help with rent, utilities, and food for those in need.
"We have found this resource highly useful when working with our clients," said Angela Saval, member of the society. "There are services that we cannot provide, but there are many other resources in the community."
The resource book is updated on a bi-yearly basis. An online version of the resource book is available for free, although the society welcomes donations to support their efforts.
Hard copies of the guide may be purchased for $12. Orders must be submitted to svdpmuncie@gmail.com by February 7.
To learn more about St. Vincent de Paul Society's work in Delaware County, visit http://vincentdepaulmuncie.weebly.com or https://www.facebook.com/svdpmuncie.