History
I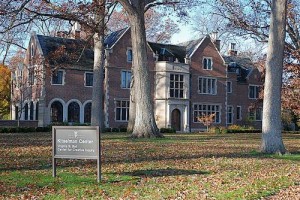 n 1927 Edwin Faye Kitselman was one of four brothers who were industrialist leaders in Muncie Indiana. The inventive Kitselman brothers originally made roller skates in a factory east of Muncie in Ridgeville, Indiana, and eventually the company became a manufacturer of steel and wire fences. Mr. Kitselman, who was also a golfer, hunter, politician, and fisherman, bought several wooded acres at what was then the west end of University Avenue. He and his wife, Edna F. Leach Kitselman, had four children: Richard, Alice, Nancy and Jean. They built the stately brick home pictured here. Unfortunately, a short time later, in 1928, Mr. Kitselman died, leaving the land and the home to his wife and children. Almost three decades later, in 1956, the surviving Kitselman children, Richard, Nancy and Jean (all now deceased) deeded the Tudor Gothic home and 2.65 acres to the Ball State University Foundation. The home became known as the Kitselman Center and was utilized by Ball State University in succeeding years as a venue for conferences and special events.
On October 12, 1956, the Gatewood neighborhood plat was proposed by J. Roberts Dailey (local realtor and civic leader) and other partners, and on November 8, 1956 the Gatewood subdivision was approved with 92 lots all designed as single-family residences with the exception of three lots on the south side of Riverside where duplex rentals were permitted. Over the next thirty years homes of varying styles were built and occupied.
In 1987, Lot 4 of the Gatewood subdivision was split into a north half and south half and sold to the homeowners of lots 3 and 5, thus ending the 60 years of Kitselman ownership of this segment of wooded land west of the city of Muncie. Gatewood has 92 homes and is a thriving neighborhood.
In 2000, Virginia B. Ball, local philanthropist and active supporter of education, the environment, the arts, and the humanities, established the Virginia B. Ball Center for Creative Inquiry at Ball State University. With the approval of the Ball State University Foundation, the Kitselman Center was chosen as the home of that center which still exists today.
Gatewood is bounded on the North by Riverside Avenue, the south by Gilbert Street, the west by Greenbriar Road and Bittersweet Lane and on the east by Forest Avenue, comprising 92 homes and approximately 80 acres. Today Gatewood is a neighborhood made up of accountants, artists, bankers, business men and women, children, counselors, doctors, engineers, fathers and mothers, grandparents, inventors, judges, lawyers, musicians, nurses, pharmacists, plumbers, professors, realtors, school administrators, teachers and very good neighbors.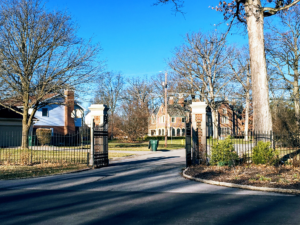 In the early 2000's, student rental properties continued popping up in residential neighborhoods in Muncie. The Gatewood Neighborhood Association was formed in an effort to sustain and support the Kitselman families' original intent to develop a single family residential neighborhood and to support good neighboring.
In 2018 Gatewood completed neighborhood sponsored leveling, cleaning, tuck-pointing and restoration of the 1927 Gate Pillars at University and Forest Avenues.
Neighborhood Association
Board Members 2018
President:
Mrs. Dlynn Melo
Board Members and Street Representatives:
Bittersweet Lane: TBA
Brentwood Lane, North side of University: Mr. Larry Strange
Brentwood Lane, South side of University: Mr. Scott and Dorothy Douglass
Forest Avenue and Gilbert Street: Mrs. Dlynn Melo
Gatewood Lane and Riverside Avenue: Mr. Jim Wingate
Greenbriar Road: Mr. Martin Creasy and Mrs. Marilyn Creasy
University Avenue:  Dr. Don Whitaker
Wildwood Lane: Mr. Ron Martin
Secretary/Treasurer/Newsletter:
Dr. Sue Whitaker
Ex officio
Mr. Jim Wingate and Mrs. Dlynn Melo, Government Liaisons
Barbara Schafer, New Neighbor Welcome Coordinator
Neighborhood School
West View Elementary, MCS
3401 W. Gilbert Street
Neighborhood Map
Gatewood map (pdf)
2016 IDEA Conference Poster
(click the image to view the full poster as a pdf)
Join the private social network for your neighborhood at Nextdoor.