Neighborhood Association Meetings
Riverside/Normal City meets on the fourth Wednesday of every month at 7:00 pm at the Holy Trinity Lutheran church at 900 W White River Blvd. Please check the RNC facebook page for updates to meeting dates, times and locations. All are welcome.
In Spring 2015, neighborhood residents participated in a survey conducted by Ball State sociology students. Information about the class as well as the survey results may be found here.
Bylaws (pdf)
Want to get in contact? Email RiversideNormalCity@gmail.com
Neighborhood Action Plan
Residents of Riverside/Normal City worked with Ball State University Urban Planning students in the Fall of 2015 to develop a Neighborhood Action Plan. This plan will help the neighborhood focus its revitalization efforts on the opportunities identified within the RNAP. In addition to the website, a Neighborhood Association Handbook was also created as a guide for strengthening community and creating neighborhood change.
On the Web
Facebook – https://www.facebook.com/pages/Riverside-Normal-City-Neighborhood-Association/751764798190909
BSU Ethnographic Methods project: website | video
Neighborhood Maps
Riverside Normal City map (pdf)
Assigning the Living Quality of Muncie Neighborhoods Using Remote Sensing and GIS (Immersive Learning Project)
Newsletters
2016 Spring Newsletter (pdf)
2016 Summer Newsletter (pdf)
2016 IDEA Conference Poster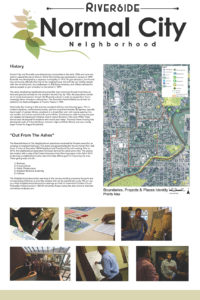 (click the image to view the full poster as a pdf)
Fine out what others think and review this neighborhood on StreetAdvisor.
Join the private social network for your neighborhood at Nextdoor.