On Friday, May 25th at the 43rd annual NUSA conference in Birmingham, Alabama, the Whitely Community Food Pantry was named the 2018 Grand Prize winner of the Neighborhood of the Year (NOTY) Award. The food pantry was also awarded first place in the Social Revitalization category of the NOTY. Whitely was recognized for creating a sustainable food pantry, strong partnerships, an educational resource on nutrition, and future-focused projects to combat hunger in the community.
Seeing that over 38% of Whitely Neighborhood residents are living below the poverty level, the food pantry has made it their mission to "resolve the serious problem of food insecurity in our area." With the 2017 closing of Marsh Grocery, the neighborhood has become a "food dessert" that is lacking quality nourishment for residents and their families.
Whitely has formed partnerships with Second Harvest Food Bank of East Central Indiana to obtain food at a low cost and with Purdue Extension for nutritional information about cooking healthy foods. The food pantry served on average 100 households or 200 individuals each month (nearly 8% of the entire Whitely population) in 2017 alone.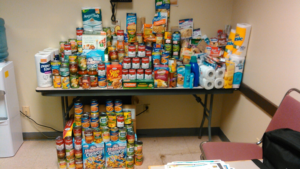 The Whitely Community Food Pantry is held from 4-6 pm the third Thursday of the month at Harvest Christian Fellowship, 1010 E. Centennial. It is open to anyone in the Whitely area or Whitely Community Council members. The food pantry is actively seeking volunteers and financial support. To become a volunteer please contact Jay Zimmerman at pantryprojectwhitely@gmail.com or Mary Dollison at 288-1892. You can also support the pantry through their GoFundMe campaign.